FREE Resources
Free Resources? Who doesn't love FREE stuff? Download these now!
Free Resources! All grumble learning resources are both student and peer reviewed. They are based on skill sets given priority by our Common Core Standards in areas where students might need a bit more practice.
.
Resource Color Guide:
What do the different heading colors mean?
ROOKIE Pages (Green) – Aimed toward early to mid level elementary students (late 2nd, 3rd, early 4th grade).
SEMI-PRO Pages (Blue) – Aimed toward mid level elementary students (late 4th, 5th, early 6th grade).
VETERAN Pages (Red) – Aimed toward mid to late level elementary students (late 5th, 6th, early 7th).
But of course, you know your child best, so adjust accordingly.
In the words of Dr. Maria Montessori, "Follow the Child!"
.

.
---
FREE Language & Geometry Resources:
Word Study – Latin Root family cent + Key – Language Montessori-inspired Worksheet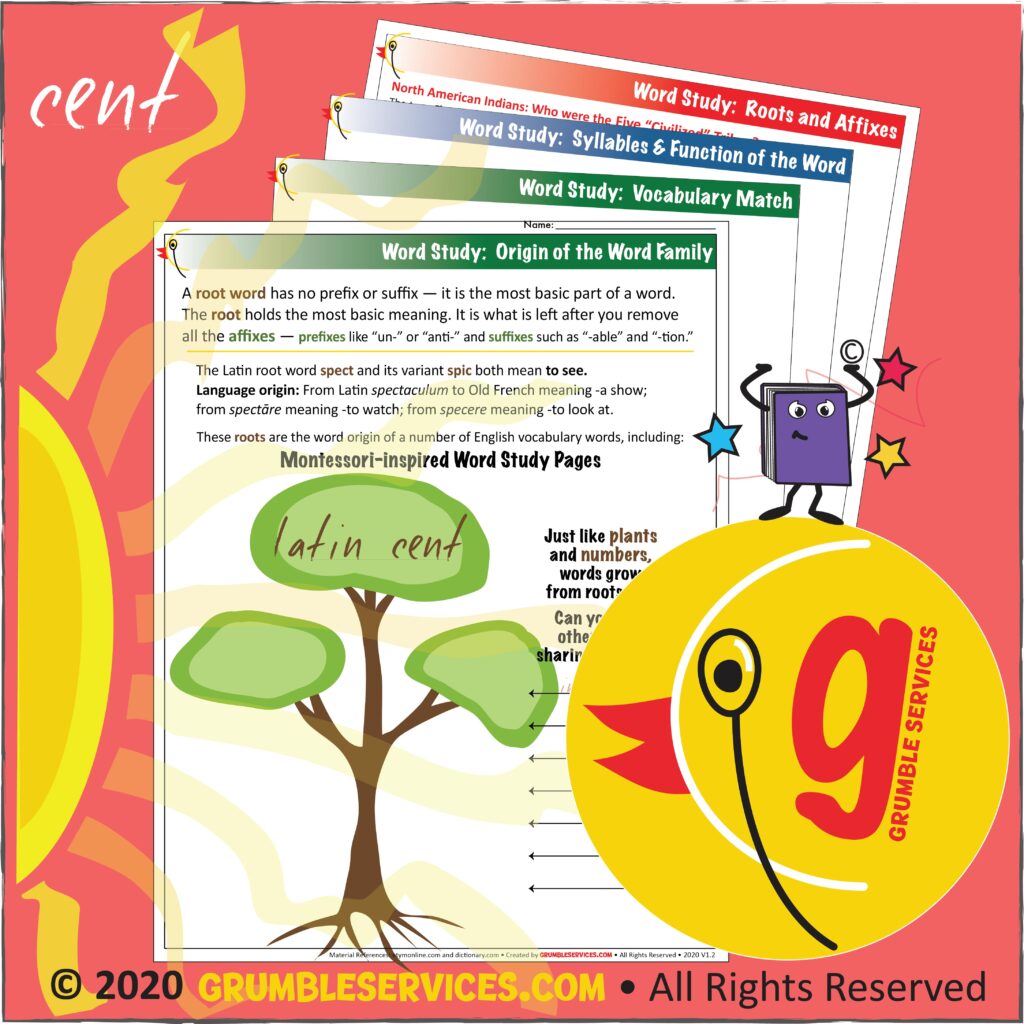 Explore the origins of modern English.
Word study is the study of the changes made to words over time as our language has developed. Etymologies are not definitions but rather explanations of how our words came to be and how they might have sounded many years ago. It is both an extension of vocabulary enrichment as well as an aid to spelling.
Word study can begin in the primary with affixes and compound words, but should extend into the elementary with word families, synonyms and antonyms.
More Language word study pages available from Grumble Services!
Coordinate Graph – Blank 4 quadrant – Geometry Montessori-inspired Worksheet
Coordinate Geometry refers to graphing (or plotting) and analyzing points, lines and areas on a coordinate graph.
A Coordinate Graph – or The Cartesian Coordinate System – consists of two number lines that run perpendicular to each other. These number lines are called axes. The horizontal axis is called the x‐axis. The vertical axis is called the y‐axis. Ordered pairs are written in parentheses (x,y).
Please consider purchasing more Geometry pages from Grumble!
Grammar Symbols – Language Montessori-inspired Worksheet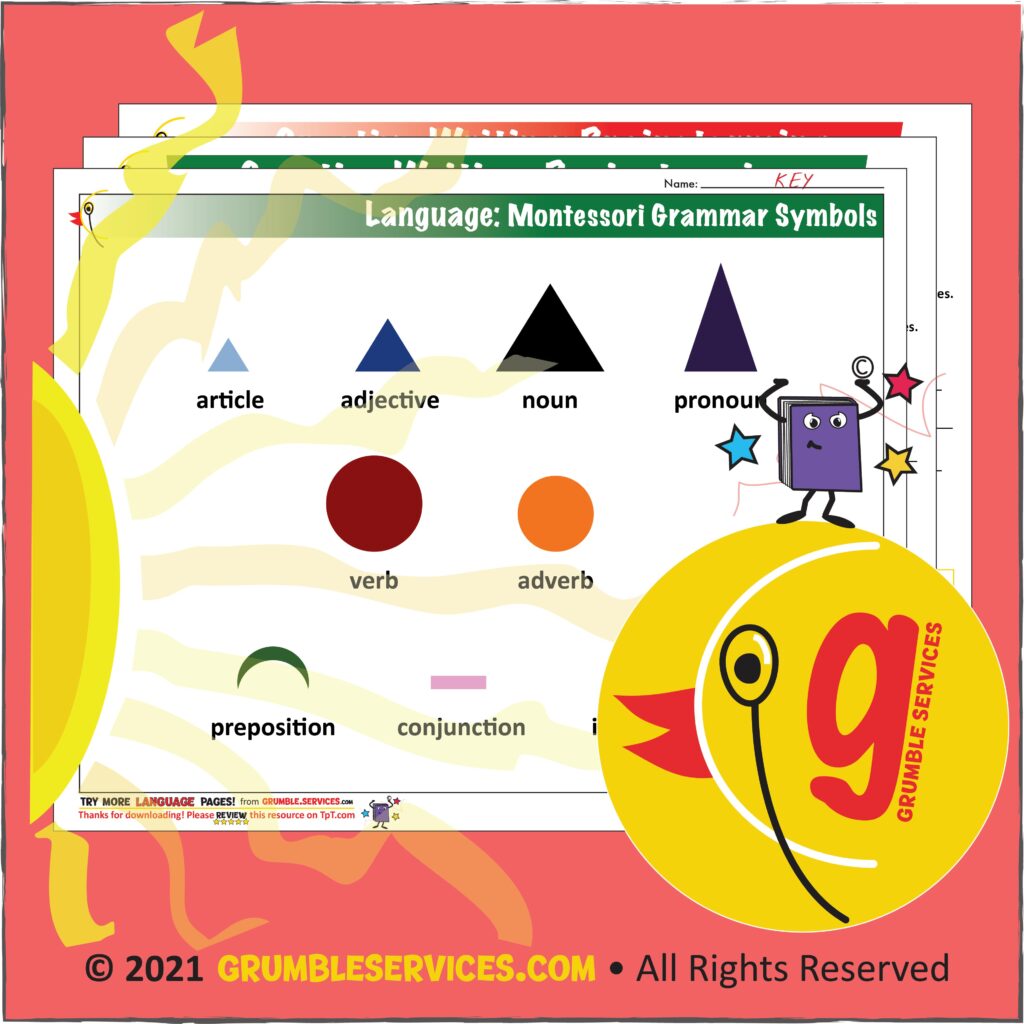 Grammar is the essence of our language. Our words enable us to put forth our thoughts to others in a way that can be understood. It is the study of the way sentences are constructed. Syntax is the arrangement of words and phrases to create well-formed sentences in a language.
Grammar centers around the verb and the noun – the two most parts in our language. Other parts of speech have a relationship to one or the other of these two.
The colors chosen for each are simply used to symbolize their function. There is no other meaning.
Please consider reviewing this page from Grumble Services!
FREE Math Resources:
Multiplication & Mystery Number – 6s –
Mental Math –
Montessori-inspired Worksheets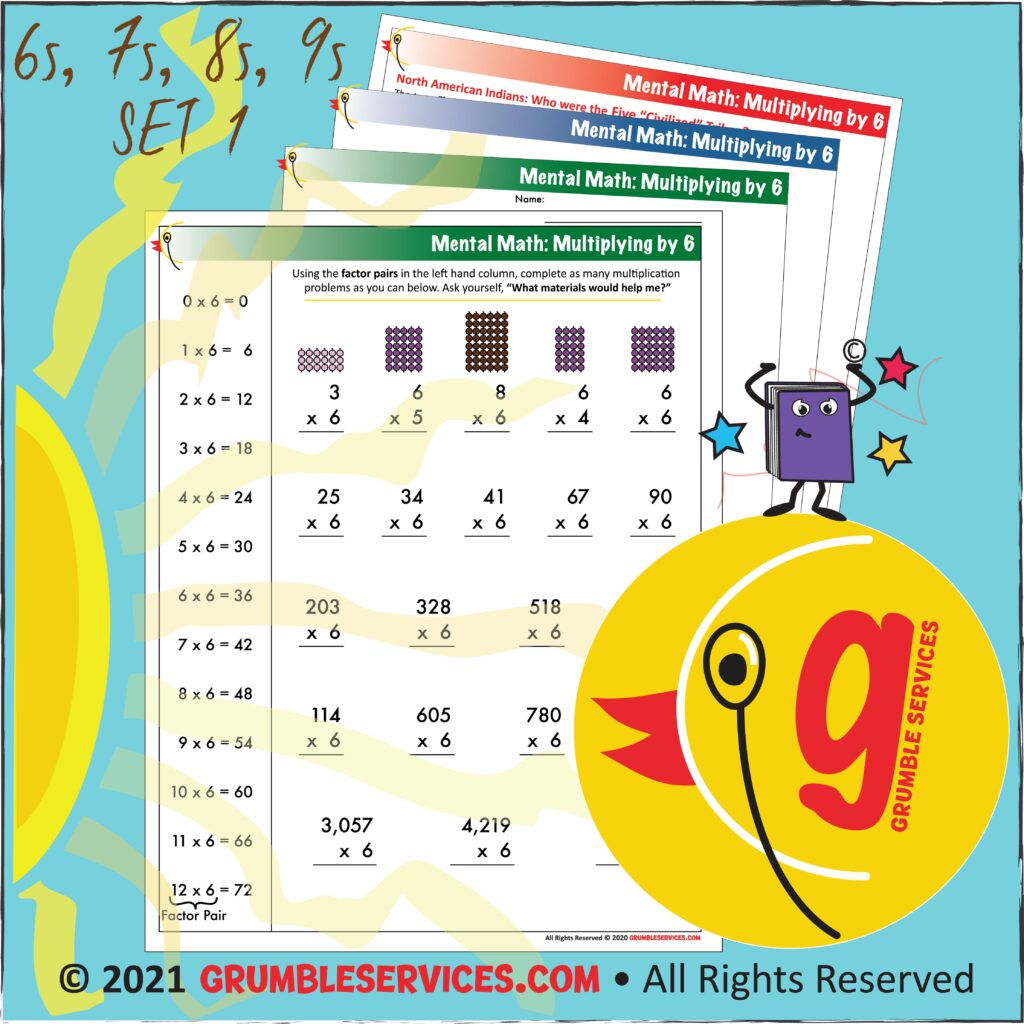 Students who have mastered their multiplication facts gain a solid foundation helping them throughout middle school, high school and beyond. It is an activity that can be easily practiced outside the classroom!
These multiplication exercises are designed to encourage those students not confident in their abilities or hesitant to learn their multiplication facts. A list of factor pairs are available in the left hand column along side the practice problems.The reverse page is designed as a precursor to algebra and to start students in thinking about multiplication/division as inverse operations.
More Mental Math pages available from Grumble!
Fact families & Inverse Operations – 5s – Mental Math Montessori-inspired Worksheet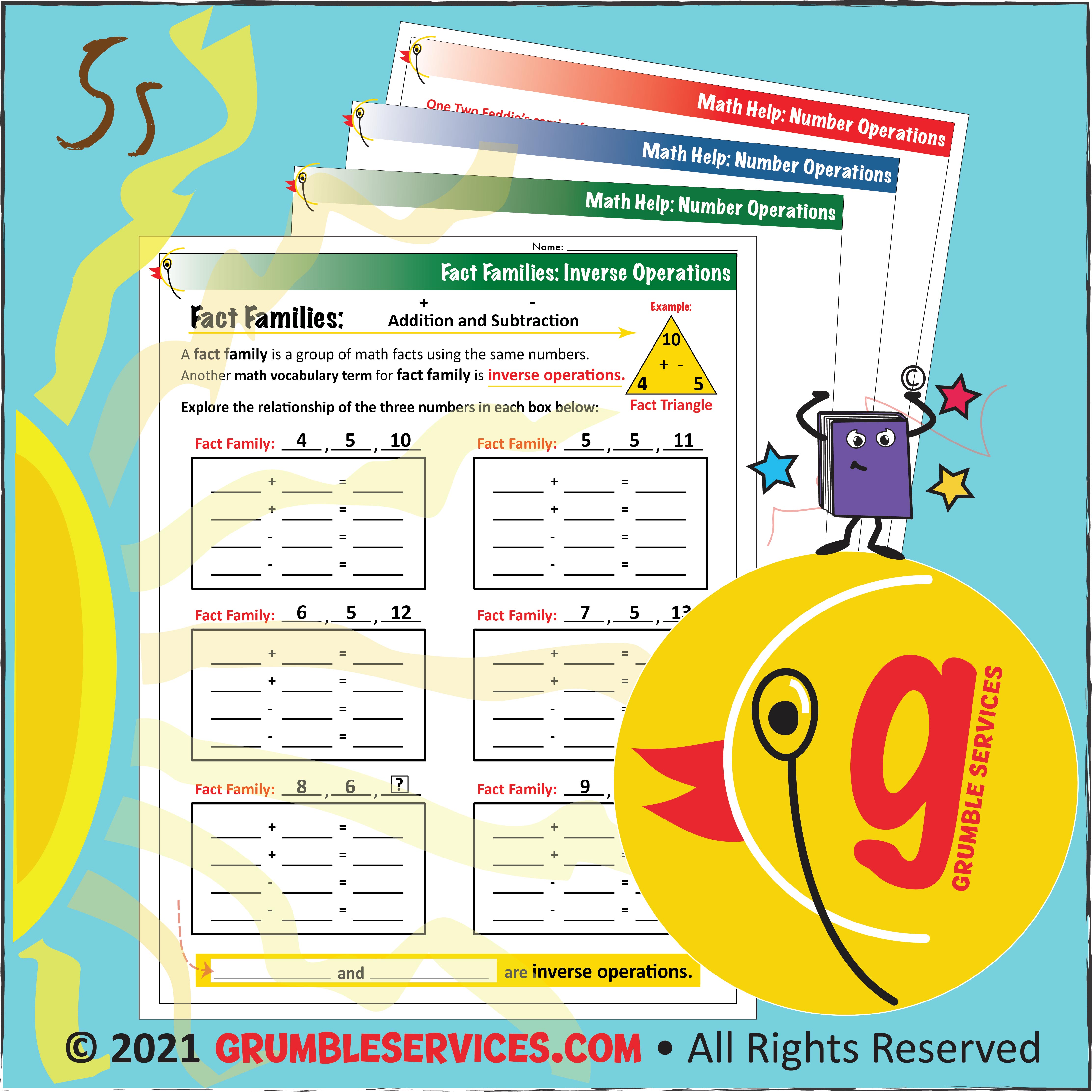 What are inverse operations? This is a difficult concept for some students to grasp. A fact family is a group of math facts using the same numbers. Another math vocabulary term for fact family is inverse operations.
Using this fact family resource, students are given sets of numbers related to the multiple 5. They will explore their relationships either using addition/subtraction and on the reverse side multiplication/division.
Please consider reviewing this page from Grumble Services!
Multiplication Table x 10 Blank – Mental Math Montessori-inspired Worksheet
How You Can Help Your Child at home:
Be interested in math yourself. You are your child's greatest role model!
Find out what facts they already know. Spend the least amount of times on these.
Focus primarily on the facts they need to learn; kids tend to struggle with 6s, 7s, 8s and 9s.
Provide encouragement along the way; you could even use a chart to monitor progress.
Spend quality time practicing together and remember to acknowledge their successes!
.
More Mental Math pages available from Grumble!
---
Free Resources • All Rights Reserved • © 2021 Grumble Services LLC • grumbleservices.com