Grumble NOT!
---
Our Resources: Looking for high quality & professionally designed elementary products? Look no further!
Elementary, Montessori-inspired Learning Resources: All products are both student & peer reviewed. Much of our curriculum has been developed over more than a decade of teaching and reflects student interest and contribution.
These resources emphasize skill sets given priority by our Common Core Standards in areas where students might also need a bit more practice.
---
We're here to help you at home.
---

Montessori Spelling & Vocabulary GUIDE: Elementary WORD STUDY Language Help
Workbook
Montessori-inspired, Elementary & Homeschool Word Study Lessons
Explore the inner workings & nuances of modern English. This learning resource guides young linguists to:
Study how roots, suffixes & prefixes modify the meaning of words
Explore the nuances among words within different word families
Determine the meaning of words by analyzing meaningful word parts
Delve more deeply into word study with synonyms & antonyms
Examine how 2 words together will create a new compound word!
Avoid discouraging struggling spellers! Word study is the study of changes made over time to words in a given language. It enriches our vocabulary and can be a highly effective aid to spelling!
REMOTE-READY
Rookie Edition
PDF + key
GadZooks!



Language help
Literary Devices &
Figures of Speech
NO PREP Educational Game!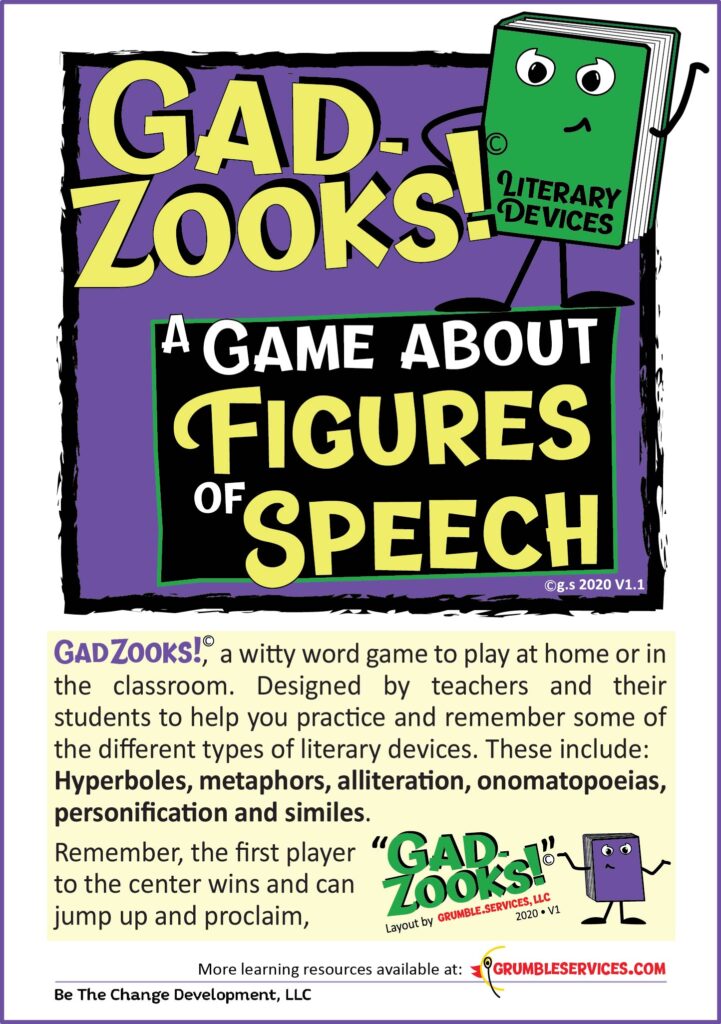 GadZooks! Learning is fun.
GadZooks! is a witty word game to play at home or in the classroom. It's a board/style game played similarly to Apples to Apples.
Participants come up with an example of the literary device (from the square they land upon) using a word(s) from the cards in their hand.
COMPLETE GAME:
NO PREP REQUIRED!
(USPS Media Mail 3-8 days)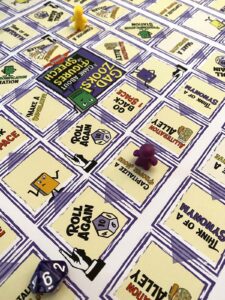 Montessori Cosmic GUIDE: Elementary Montessori Materials & Lessons Workbook
Montessori-inspired, Elementary & Homeschool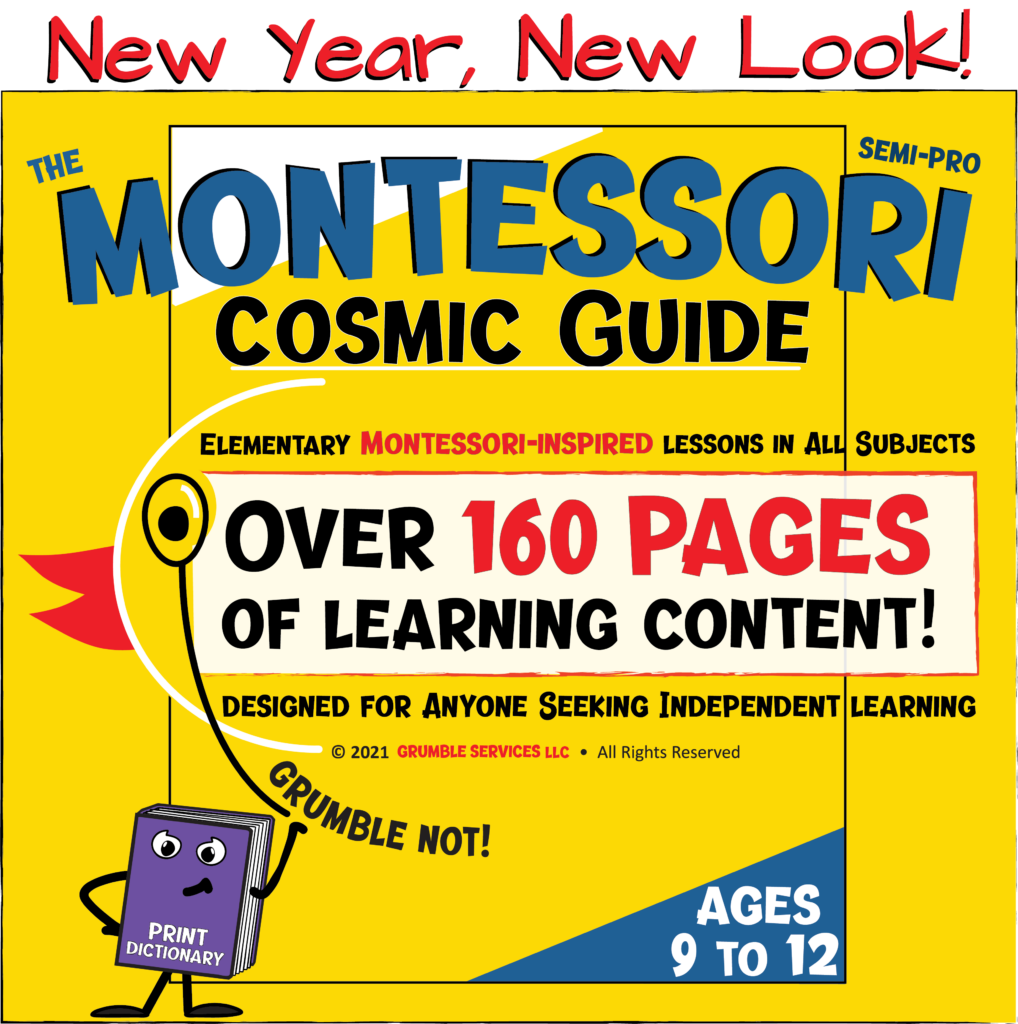 For lack of a better term, this Cosmic "workbook" contains 12 cosmic concepts.
Each of the Guide's 12 concepts (chapters) include content area in 6 interconnected academic areas (12 to 14 pages each – 'Cosmic Education'): Science; History & Geography; Language Arts; Geometry; Mathematics; & Math Help (review pages).
Over 160 pages of distance learning content including: What is a Virus? Coronavirus Series & The American Civil Rights Movement – the precursor to Black Lives Matter!
REMOTE-READY
Semi-Pro Edition
PDF + key
United States History: Making America – Elementary Montessori History help & Geography printable pages (28 + Key)

:
Colonialism & American Civil War to American Civil Rights Movement
Elementary Distance Worksheets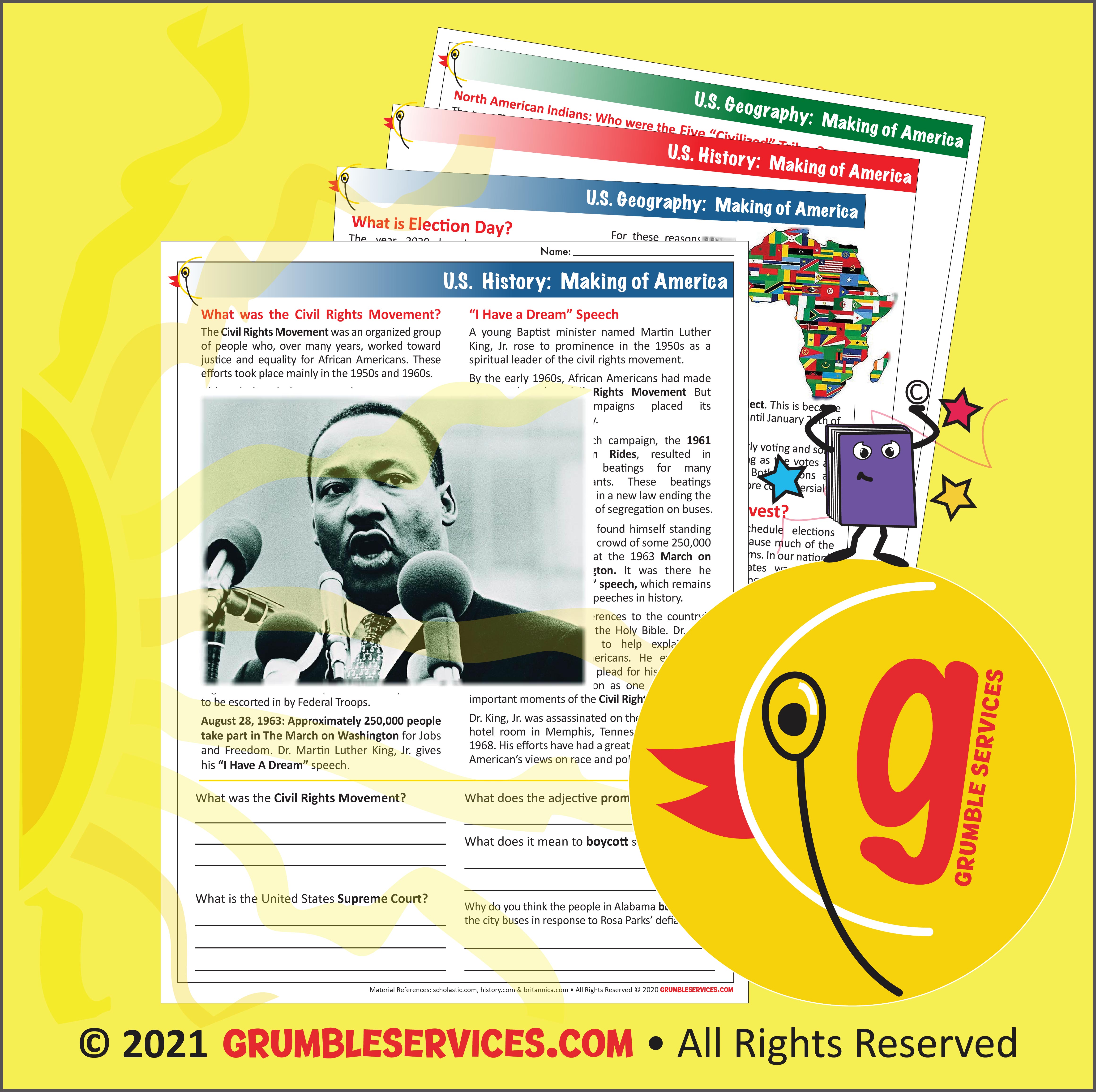 Journey through the making of our nation and through the lens of world influences.
The United States has a complicated past, present and future: Explore the process of immigration and how all 7 continents on Earth continue to help shape "America." Explore the troubling beginnings of our country – from slavery to the Civil War and Reconstruction period to the 1960s Civil Rights Movement. What's in store for our future?
All topics are explored through multiple historically sensitive viewpoints.
REMOTE-READY PDF + Answer Key
Coronavirus & COVID-19: What's a Virus? Series – Science & Biology:
The Human Body, The Immune System & COVID-19 Elementary Distance Worksheets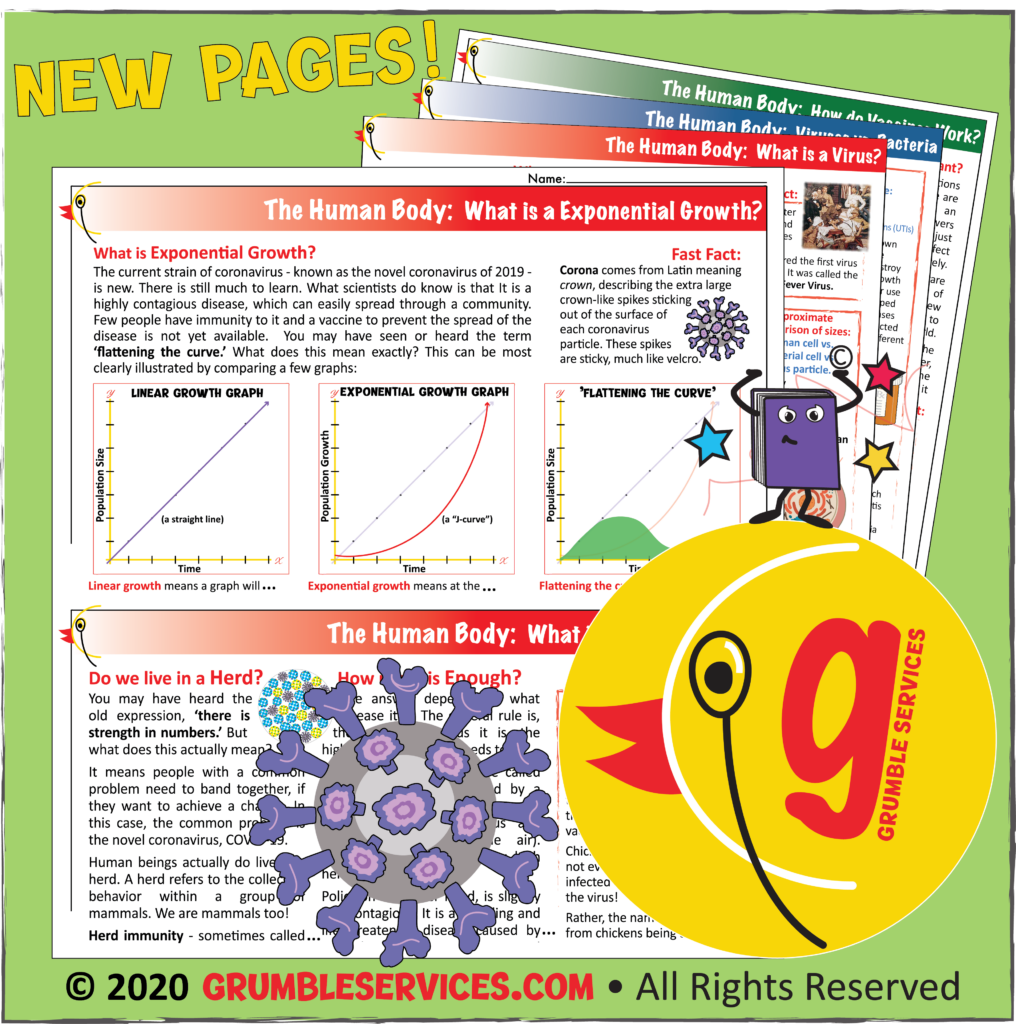 Featured in the STAY-at-HOME Montessori Guide 2020!
Explore what a virus is, the differences between a virus and a bacterial cell, the spillover of the coronavirus and what a vaccine will do to stop COVID-19.
Answer both Right There questions and Think and Search short answer questions using domain-specific phrases and learn scientific jargon such as DNA, particle vs. cell, microorganisms, molecules, mutations and antigens.
Learn some of the history and science behind some of Earth's most powerful viruses, past and present.
REMOTE-READY PDF + Answer Key
Lines, Angles & Polygons Series – Geometry & Math:
Measurement Review – Elementary Distance Worksheets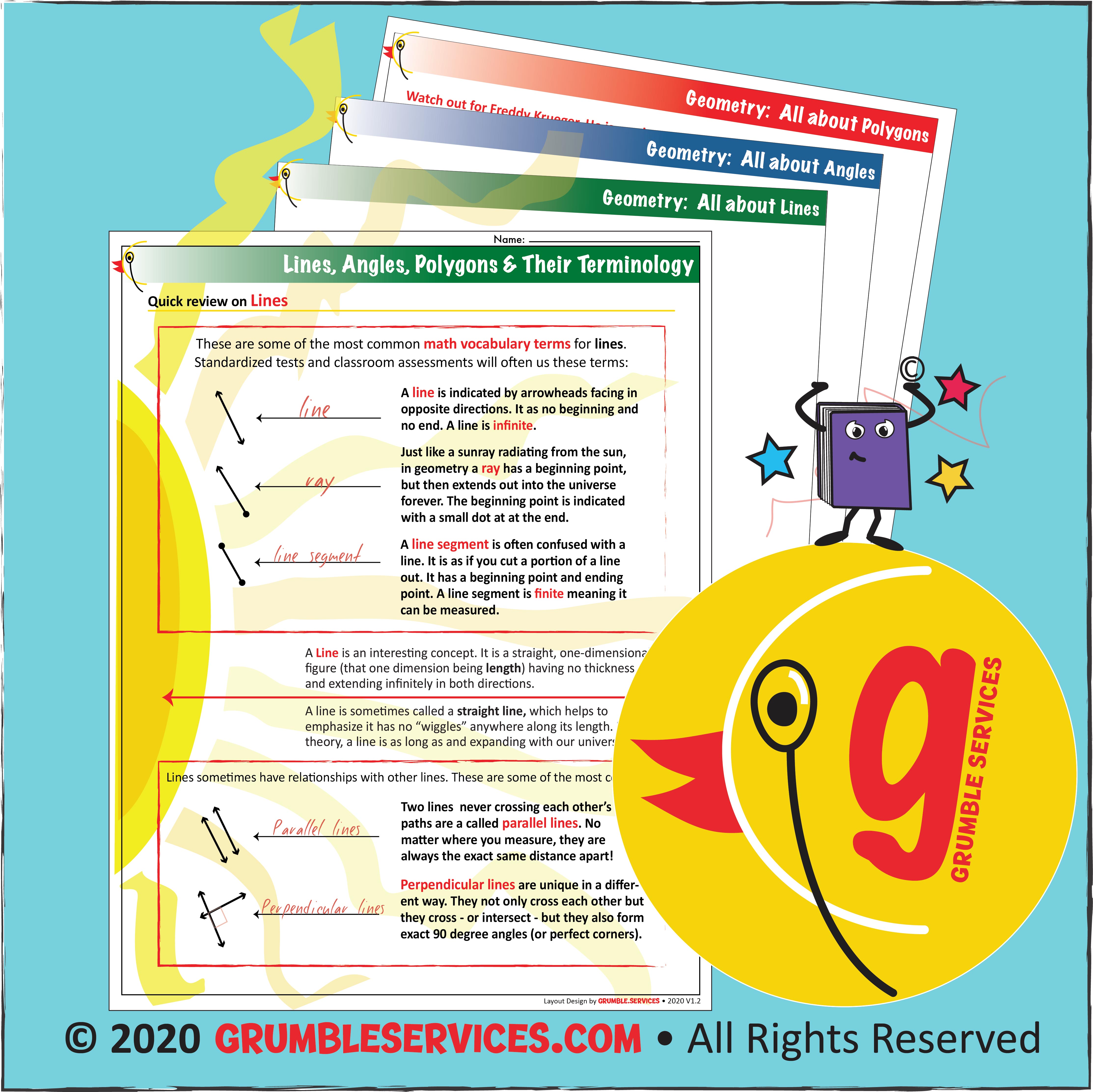 Featured in the STAY-at-HOME Montessori Guide 2020!
What Montessori materials do we use to explore lines, angles and polygons? How do we transfer these skills to an abstract platform?
Practice identifying different lines, angles and polygons. Learn terminology and match names to each. Determine angles and polygons based on their characteristics. Answer short answer questions about their characteristics. Great review for the older student as well.
Great review for the older student as well.
REMOTE READY PDF + ANSWER KEY
Looking for more Learning Resources?

All Rights Reserved • © 2022 Grumble Services LLC • grumbleservices.com